In the SUPREME COURT OF INDIA
I.A No. ________In Writ Petition (Civil) 349/2006
(A Public Interest Petition under Article 32 of the Constitution of India)
In the matter of
Voluntary Health Association of Punjab      …… Petitioner
Vs
Union of India & Ors.                                       …..Respondents
Application on behalf of the Interveners under Article 32 of the Constitution of India read with Section 151 Code of Civil Procedure for leave to intervene in the above mentioned writ petition.
MOST RESPECTFULLY SHOWETH:
1)      That the Intervener No. 1 Dr. Mitu Khurana ("Mitu") is a doctor/paediatrician and after having faced immense pressure from the society to abort her twin female children, has taken to activism, fighting against sex selective abortion, since 2005.
2)      That the Intervener No. 2 Mrs. Bijayalaxmi Nanda has been actively involved both as an academician and an activist on the issue of sex selection from 2002 onwards. She, along with a group of academicians and other professionals initiated the "Campaign Against Pre-Birth Elimination of Females (CAPF)" in 2002. The campaign
a)      is self-funded and generates awareness and voluntarism on the issue especially amongst the youth.
b)      was actively involved in demanding for the amendments to the PC-PNDT Act (then known as the PNDT).
c)      has provided support services to women survivors and victims of the issue.
d)     In her personal capacity, the Intervener No. 2, Mrs Bijayalaxmi Nanda, has extensively researched on the issue and done reviews of the implementation of the Act in various states of India for both the Government as well as U.N agencies. She is a member of the State Supervisory Board of the Delhi Government. She has followed the case of Dr Mitu Khurana, from the beginning and corroborates all her statements.
3)      That Mitu's experience in fighting for justice for her daughters and subsequent RTI`s filed by her show the state of non-implementation of the Preconception and Prenatal Diagnostic Techniques (PCPNDT) Act in The National Capital Territory of Delhi.
4)      Mitu's personal experience and the outcome of RTI applications, along with the experiences of Mrs. Bijayalaxmi Nanda are narrated below to assist this Hon'ble court in understanding the details of this grave issue that is plaguing our society.
5)      Personal Experience –
i)        Mitu got married in November 2004. In January 2005 she became pregnant.
ii)      A transvaginal ultrasound conducted in the sixth week of pregnancy showed that Mitu was carrying twins.
iii)    Mitu's mother-in-law started demanding that she undergo a sex determination test to which she refused.
iv)    Mitu was tortured to get it done, her husband and inlaws would deny her food and water and fight with her every day to undergo the sex determination tests.
v)      After persuasion had no effect Mitu's in-laws and husband got sex determination test done by deception.
vi)    They very well knew that Mitu was allergic to eggs; still they fed her cake made with eggs, all the while assuring her it was eggless. She developed allergic manifestations-stomachache, loose motions and vomiting. The next morning her husband and mother-in-law took her to a hospital, wherein 16th week of pregnancy she was admitted to the labor room. The gynecologist advised ultrasound of kidney, ureter and bladder, but the radiologist conducted a fetal ultrasound without her knowledge and consent 
vii)  After this incident, Mitu's husband and inlaws started demanding that she get Medical Termination of Pregnancy (M.T.P.) done. Her mother-in-law asked her many times to abort at least one of the fetuses. She was kept without food and water.
viii)            Mitu's mother-in- law told her that two daughters would be a big burden on the family and she should get at least one, if not both of them aborted. When she refused she was asked to give one of them for adoption.
ix)    On  May 17, 2005, after Mitu was subjected to a lot of verbal abuse, she started bleeding at night and there was danger of abortion. She was not even allowed to call up her parents for medical help. She survived the night and managed to call her father in the morning. After much persuasion by her father, her husband agreed to take her to a nursing home.
x)      After finding out that Mitu was to have twin girls, her in- laws and husband seldom accompanied her for antenatal tests or hospital visits. Her husband would frequently fight with her even in her parents' house. He demanded that a (Deoxyribonucleic Acid) D.N.A test done to establish the paternity of the twins because his mother had been told by some priest that he would have just one son. As Mitu was carrying two daughters, he said they could not be his children.
xi)    Mitu filed a complaint in the local police station during pregnancy alleging that a sex determination test of her fetuses seemed to have been conducted on her and the pressure by her inlaws to have an M.T.P done .
xii)  Mitu also filed many complaints of sex determination of her fetuses to Delhi Commission for Women, Crime against Women cell and National Commission for Women during the period 2005 to 2008 .
xiii)            In March 2008, Mitu's husband threw her out in the middle of the night, and asked for a mutual divorce, because he wanted to remarry and have sons.
xiv)            It was only in March 2008, that she came across the hospital discharge papers and reports of ultrasounds done during her pregnancy (those papers had been always in the custody of her husband).
6)      COMPLAINT UNDER PC-PNDT ACT AND ATTITUDE OF THE AUTHORITIES.
a)      On April 10 2008 – Mitu filed a complaint to the Women's Commissions, the Health Minister, and various N.G.Os.
b)      On May 9 2008 – Mitu filed a complaint in the P.N.D.T cell .
c)      On June 5 2008 – Mitu received  a reply to an RTI application filed by her that the Central Monitoring Committee along with District Appropriate Authority (North West Delhi) had raided the hospital on  June 03, 2008. 
d)      In July 2008- Mitu got a reply from District Appropriate Authority that during the raid it was found that Form F, which is a mandatory document under the PC PNDT Act was not filled.
e)      However no action was taken. After Mitu `s case was highlighted in the media, she got a letter from District Appropriate Authority asking her to appear before them and express her views. Mitu went to meet the Chief District Medical Officer ("CDMO") along with Mrs. Bijayalaxmi Nanda and urged the CDMO to pursue her case. . The CDMO suggested that she should not do anything in an impulsive manner, which she may repent later.
f)       She was also told that she should try to reconcile with her husband, and his wish for a son was not something she could not fulfill, as she could always get pregnant again. Mitu was also asked as to how she would stand to benefit if the ultrasound machine was sealed. She was told the ultrasound machine was a very useful tool for diagnosis and someone could suffer if it was sealed. Lastly Mitu was advised to inform the office, in case of settlement with her husband, so that the doctors are not troubled.
g)      Mitu pointed out to the CDMO that his statement implied that he was encouraging her to undergo sex determination test, should she get pregnant again. It also implied that he considers women as baby producing machines who must go on producing children till they manage to produce a son. (Annexure-1)
h)      The Appropriate Authorities did everything in their power to try and force Mitu to withdraw her complaints. No action was taken against the accused despite it being established from all enquiries that:
i)        The gynecologist had asked only for ultrasound of (Kidney, Uterus, Bladder) but a detailed foetal ultrasound has been conducted by the radiologist.(Annexure-2)
ii)      That no form 'F' had been filled for the same as is mandated under the PC-PNDT Act (Annexure-3)
iii)    Mitu was tortured during pregnancy to abort the babies and she had reported it to the local police and Crime against Women Cell from time to time-
http://savedaughters19.wordpress.com/2013/11/19/complaint-dated-12-march-2006/
http://savedaughters19.wordpress.com/2013/11/19/complaint-dated-04-june-2006/
http://savedaughters19.wordpress.com/2013/11/20/complaint-dated-09-june-2006/
http://savedaughters19.wordpress.com/2013/11/20/complaint-dated-19-april-2008/
iv)    In the meantime all her letters to central and state PNDT department went unanswered. The district Appropriate Authorities supported her husband wholeheartedly despite all proofs given by her
http://savedaughters19.wordpress.com/2011/05/08/another-plea-to-so-called-concerned-persons/       and     
http://savedaughters19.wordpress.com/2011/05/08/plea-for-help-to-mrs-kiran-walia/                               and  
http://savedaughters19.wordpress.com/2011/05/08/governments-attempts-to-save-guilty/                 and  
http://savedaughters19.wordpress.com/2011/05/08/letter-to-mr-p-chidambaram/                                   and 
http://savedaughters19.wordpress.com/2011/05/09/letter-to-esteemed-prime-minister-of-india-dr-manmohan-singhji/
v)      However, an enquiry committee was constituted which gave a report that there is no direct/circumstantial evidence of sex determination. Statements of accused –  http://savedaughters19.wordpress.com/2011/05/09/enquiry-commitee-p-n-d-t-statement-of-doctor/
http://savedaughters19.wordpress.com/2011/05/09/enquiry-commitee-statement-of-father-in-law/
http://savedaughters19.wordpress.com/2011/05/09/enquiry-commitee-p-n-d-t-statement-of-husband/
Despite Mitu running from pillar to post with all evidences,  she has not been offered any support by the Appropriate Authorities.
The authorities conducted a vague enquiry in which they took everything said by the accused on face value, and everything said by Dr Mitu to be a lie and gave an one sided report to save the accused.
Despite Dr Mitu filling Numerous objections to the way inquiry was held and bringing to the forefront the blaring discrepancies in the report no action was initiated to cancel the report/ take any action against the officials giving a lopsided report to save the accused – 
vi)    As the matter was not pursued in real earnest, Mitu had no choice but to file a private case under PC-PNDT act in November 2008. Cognizance was taken on the complaint after the pre-summoning evidence of the Mitu on June 08, 2011. 
vii)  Immediately the accused doctor and the owner of the ultrasound Clinic moved to the Hon'ble High Court of Delhi for quashing of the summons, and an ex-parte stay on the proceedings against the  accused was granted.. The matter is pending in Delhi High Court since 2011. it has been now been moved into the category of regulars despite Supreme court orders to dispose of all cases under PC-PNDT Act within six months.
viii)            In January 2009 – the Appropriate Authority filed a case only against the Director of the Hospital in which the alleged sex determination ultrasonography test was conducted on Mitu. The authorities stated that they have not filed a case against the doctor who did the ultrasound based only on a written statement from him that he fills form 'F' in all cases (Annexure-4).
7)      The Director of the hospital ("Hospital") where the sex determination was done have approached the High Court of Delhi for quashing the summons. The matter is pending before the Hon'ble Delhi High Court and though no stay has been granted, the proceedings in the lower court have not moved any further since then.
8)      The director of the Hospital was granted bail on his first day of appearance in the court. Neither the ultrasound machine, nor the clinic/Hospital was sealed even for one day despite many irregularities being found. (Annexure-5)
9)      Dr Harsh Mahajan in whose clinic the sex determination was conducted and who is also an accused in the criminal complaint filed by Mitu, pending disposal before Rohini District Court, Delhi, , was made a member of the committee to review the PC-PNDT Act by the Government of India, fully knowing that he is an accused in a criminal complaint under which cognizance has been taken by the Magistrate against him. (Annexure-6).  ProvisionsoftheAct-84812586
10)  It is pertinent to present before this Hon'ble Court that the child sex ratio of all the districts of Delhi has shown an alarming decline in the 2011 census as compared to the 1991 census.
11)  A comparative table showing Child Sex Ratio (0-6 years of age) in different Districts of Delhi over a period of 2 decades have been set out as under:
| | | | | |
| --- | --- | --- | --- | --- |
| District | 1991 Census | 2001 Census | 2011 Census | Difference |
| New Delhi | 919 | 898 | 884 | -14 |
| South | 912 | 888 | 878 | -10 |
| South West | 904 | 846 | 836 | -10 |
| Central | 937 | 903 | 902 | -1 |
| North East | 917 | 875 | 875 | 0 |
| East | 918 | 865 | 870 | +5 |
| North | 920 | 886 | 872 | +6 |
| North West | 913 | 857 | 863 | +6 |
| West | 913 | 859 | 869 | +8 |
12)  Thereafter Mitu filed RTI`s to know the status of the implementation of the PC-PNDT Act in the state of Delhi. Replies to queries under RTI Act reveal that during the period from 2008 to 2013, a number of clinics were found violating the PC-PNDT Act by the National Inspection and Monitoring Committee /Appropriate Authority on their visits. In majority of the cases no action was taken against these clinics.
13)  Some examples of non implementation of the PC-PNDT Act by the Appropriate Authorities, as gathered from RTI replies provided by the Appropriate Authorities of the nine district of Delhi between the period from 2008 to 2011 is set out as under (Annexure 7 Colly) :-
Name Of the center

Information received from

Violation of PCPNDT Act

Action Taken

Dr Kavita Aneja`s Images ultrasound center
Reply to RTI received from CDMO (North West District)
It was observed that Form F was filled in only 4 out of 11 antenatal   ultrasounds done on 02.06.2008, and no form F was filled for the 4 antenatal   ultrasounds done on 03.06.2008.
No case has been filed against this centre by the appropriate   authorities.
Dr Mittal`s Diagnostic centre
Reply to RTI received from CDMO (North West District)
Advertisement

Non maintenance of register

Form F not signed by the radiologist.

A show- cause notice was given

No case has been filled against the centre.

72 more ultrasound  centres
Reply to RTI received from CDMO (North West District)
Either delayed submission or non submission of monthly records to the   AA,
No case has been filled against any of these centres.
Jeewan Mala Hospital
Reply to RTI received from CDMO (Central District)
Serial No of ultrasound machine was not matching with serial no   endorsed in PC- PNDT registration certificate.
Only a show cause notice was issued to the center
St. Stephen Hospital
Reply to RTI received from CDMO North on 09.07.2010
Discrepancy was found at machine availability in center and registered   at office of AA.
Only a show cause notice was issued to the   center.
Kanta Sethi Hospital
Reply to RTI received from CDMO North West on 23.03.09
Machine was at an unregistered place.
USG machine was Sealed but   unsealed on advice of District Advisory Committee members after taking   penalty of Rs 20,000/-.
Kanishka Ultrasound Center
Reply to RTI received from CDMO North West on 23.03.09
Machine was at unregistered place and there was non submission of Form   F.
USG machine was Sealed but unsealed on advice of   District Advisory Committee members.
Atul X-Ray & Lab
Reply to RTI received from CDMO North West on 23.03.09
Machine was at unregistered place
USG machine was Sealed but reopened   on advice of district Advisory Committee members after taking penalty of Rs   15,000/-
Shri Anandpur Trust Charitable Diagnostic Center
Reply to RTI received from CDMO East on 26.07.2010
Failure to inform regarding new USG machine (Annexure-13)
Issued Show Cause Notice
14)  This Hon`ble court in Cehat And Ors. vs Union Of India (UOI) And Ors made the following observations on September 19, 2001:
"At the outset, we may state that there is total slackness by the Administration in implementing the Act. Some learned counsel pointed out that even though the Genetic Counseling Centre, Genetic Laboratories or Genetic Clinics are not registered, no action is taken as provided under Section 23 of the Act, but only a warning is issued. In our view, those Centers which are not registered are required to be prosecuted by the Authorities under the provisions of the Act and there is no question of issue of warning and to permit them to continue their illegal activities."
15)  Despite this strict direction from this Hon'ble Court, the table reproduced above clearly depicts the blatant violation of the Apex Court's directions by the concerned authorities.
16)  Further on September 10, 2003, this Hon`ble Court was further pleased to direct all Appropriate authorities to take prompt action
a)        Against any person or body who issues or causes to be issued any advertisement in violation of Section 22 of the Act
b)        Against all bodies specified in Section 3 of the Act as also against persons who are operating without a valid certificate of registration under the Act.
c)      This Hon'ble Court was also pleased to observe that the Appropriate Authorities at District Level, must carry out the necessary survey of Clinics and take appropriate actions in case of non-registration or non-compliance of the statutory provisions including the Rules. Appropriate Authorities are not only empowered to take criminal action, but to search and seize documents, records, objects etc. of unregistered bodies under Section 30 of the Act.
17)  The machines which were sealed for violation of PC-PNDT act were reopened on following grounds (ANNEXURE 8 COLLY)-
18)  Most of these clinics were sealed on serious violations of PCPNDT act like incomplete record keeping/ non registration of center etc.
19)  On an overview of the RTI responses it is apparent that in most of the cases "FORM F" has not been given any importance by such centers. No case was filed against these centres in which the records were not maintained as per the law or where they were not submitted regularly to the Appropriate Authorities. Therefore all violators of the Act have gone scot free and do not find a mention in the affidavit submitted by Delhi NCR.
20)  It was noted that there had been no visit by the NIMC for 2 years i.e. year 2009-10 in the
East District (Annexure-10)     and
South District (Annexure -11)–     
21)  In a  response to an RTI application filed to know about the status of court cases filed by the Delhi Government, the replies received are reproduced as under: (Annexure 12 Colly)
22)  All the above mentioned cases are not mentioned in the affidavit filed by Respondent. The Intervenors would like to humbly draw the attention of this Hon'ble Court to the appalling situation wherein the authorities have stated that the current position/status of many cases as "Not Known".
23)  The replies received from the districts of Delhi after the orders of this Hon'ble Court on March 04  2013, shows a similar disappointing picture. The RTI was filed on May 20, 2013, however the replies have been received only from three out of the nine districts of Delhi.  The replies (Annexure 13 Colly) reveal that:
a)       Reply dated 03.07.2013 from CDMO (West District) states that they have cancelled registration of 54 ultrasound centres, issued Show Cause Notices to 27 ultrasound centres and filed 3 court cases in last year 2012-13. However a mere perusal of the Annexure of the reply shows that the Appropriate Authority does not know the status of 6 out of 15 cases filed and center is going for Plea bargaining in 2 other cases.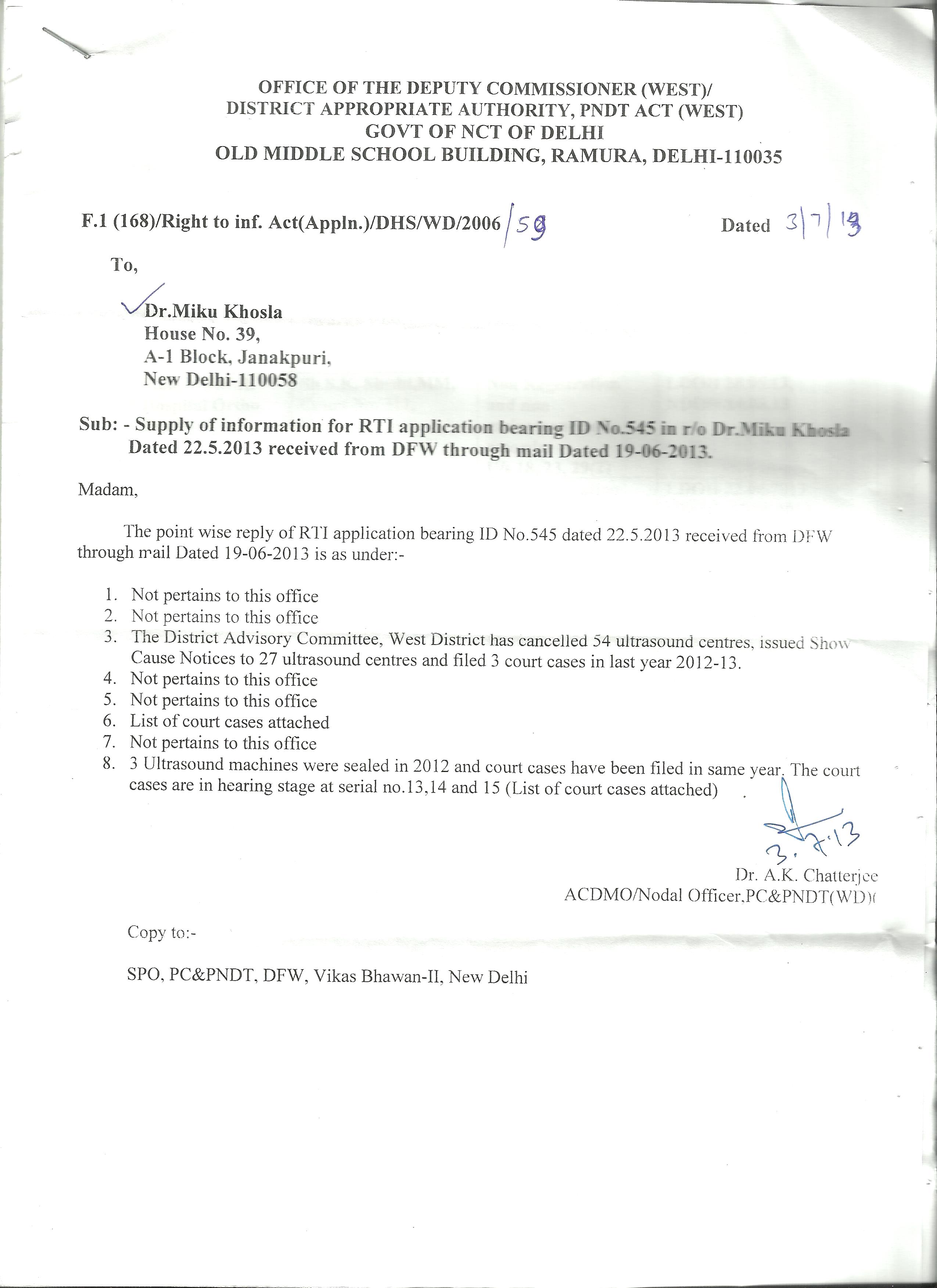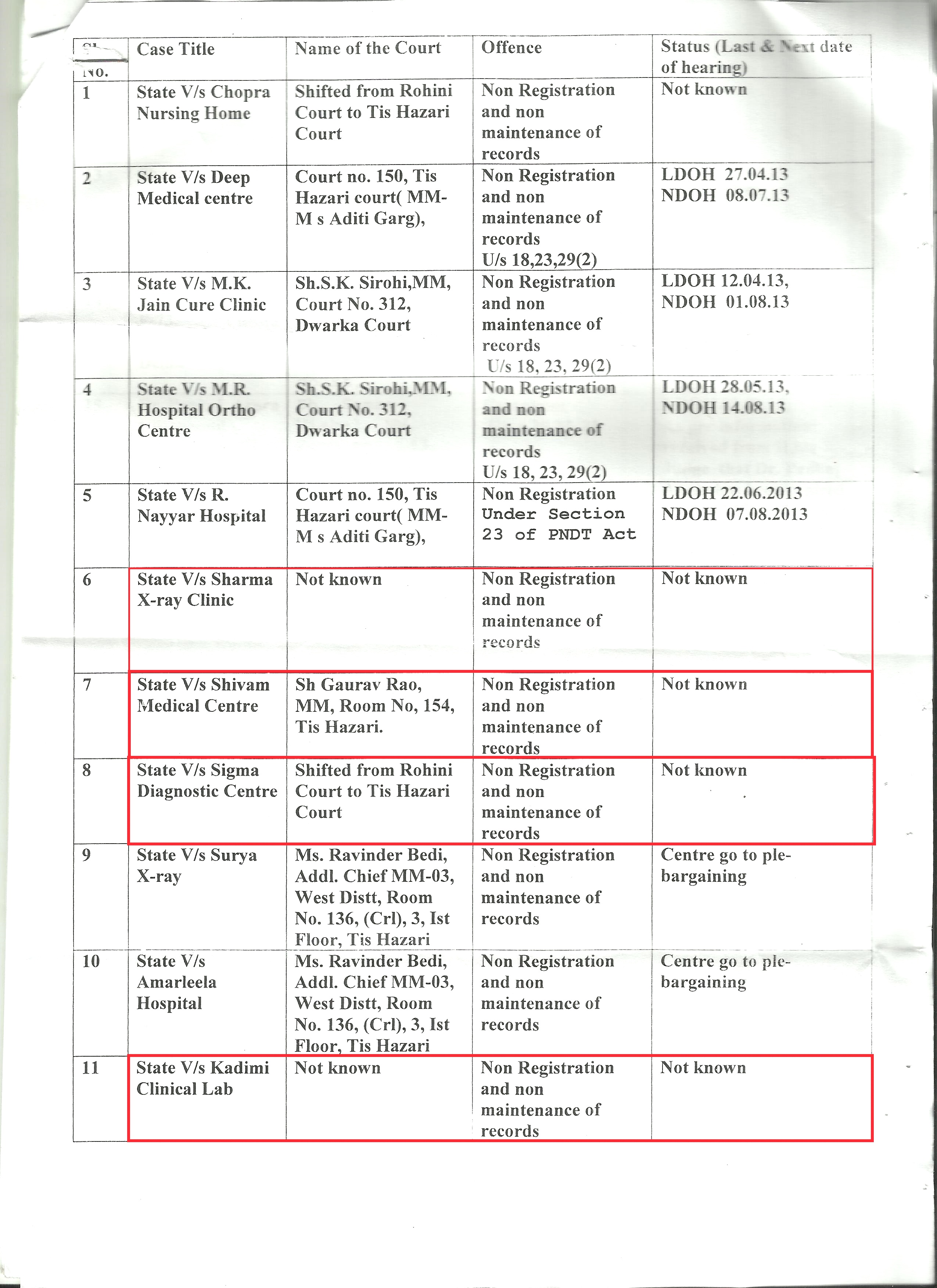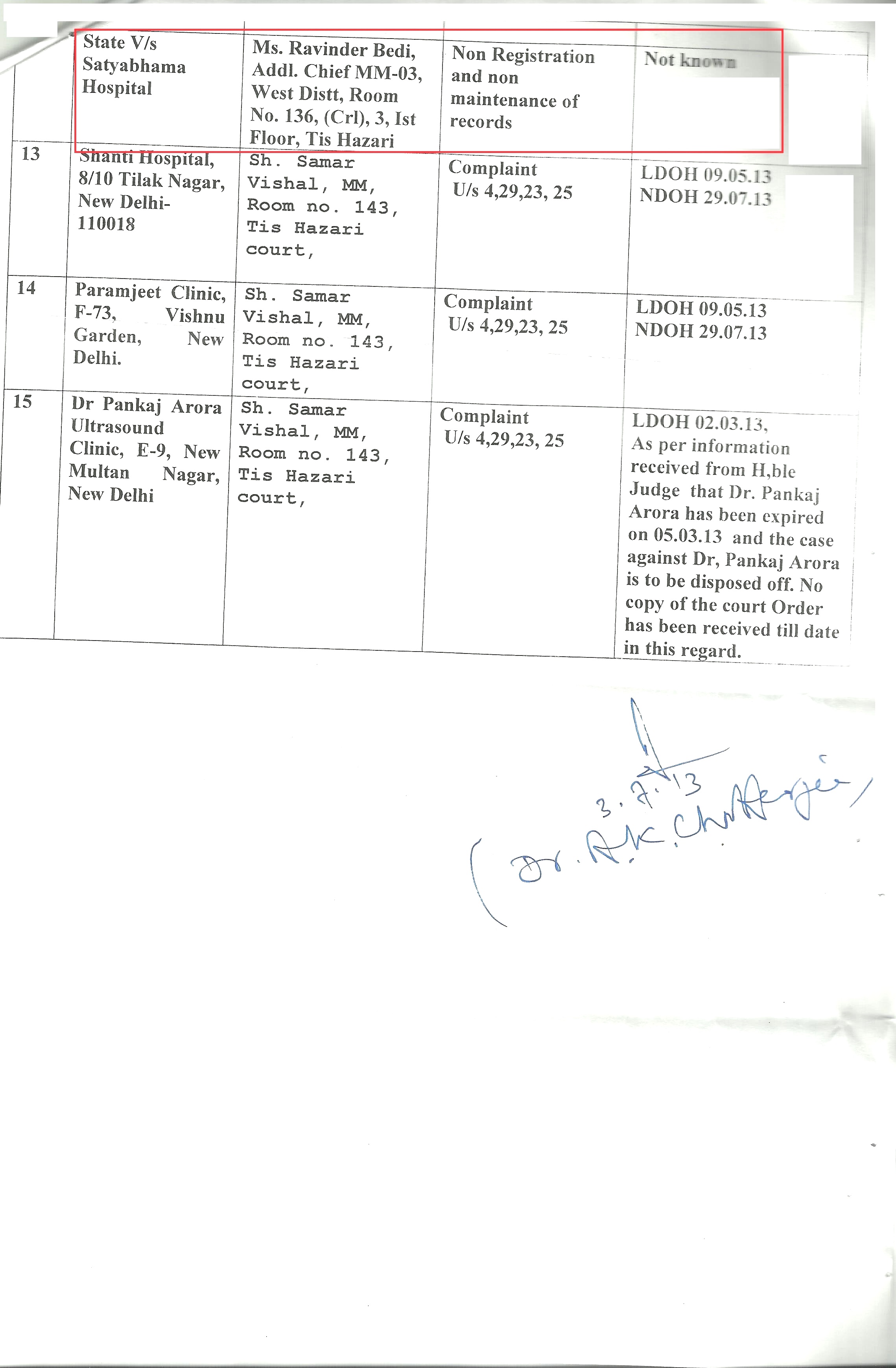 b)      Reply from North District of Delhi shows that USG machines were sealed in 3 clinics (2 in June 2012 and 1 in September 2012)
c)      Reply from South West District showed that there are five cases pending in the district, two pertaining to the year 2012, one to 2009, one to 2006 and the oldest one pertaining to year 2003.  There have been no seizures in the district.
     Mrs. Bijayalaxmi Nanda in her capacity as a social activist has also experienced that
i)        In Delhi there has been very little efforts to implement the law irrespective of a dismal child sex ratio. There has been enough research and a number of reports to suggest that sex selection is rampant in Delhi.
ii)      The authorities have not exhibited any will to implement the law. In certain periods there has been sporadic action which has been abandoned later.
iii)    There is no support to women complainants, in fact there is a lack of gender sensitiveness and accountability in the very authorities who are  responsible for the implementation of the Act.
iv)    The PC PNDT Act, in Section 28 states that no court shall take cognizance of an offence under the Act except on a complaint made by the Appropriate Authority or by a person who has given notice of not less than 15 days in the manner prescribed, to the Appropriate Authority.  In most cases, the victims are not aware as to who the designated Appropriate Authority is and therefore complain to the nearest police station. It has been noticed that police officers are not aware/sensitized about the framework of the Act and the issue as well and therefore do not pursue the matter with the designated Appropriate Authority.
v)      The meetings of the State Supervisory Board that Intervenor No. 2, Mrs. Bijayalaxmi Nanda has attended have been an exercise in futility and only held for record maintenance.
vi)    There is a strong doctors' lobby which is very effective in not allowing the law to be implemented in the true spirit in the state of Delhi.
vii)  Many irregularities in implementing the Act have been noticed by proactive administrative authorities who have been silenced later by superiors.
24)  From the above, it is apparent that the
a)      Doctor's lobby has a strong control over the law implementing agency of the country.
b)      The District Appropriate Authority, the State Appropriate Authority and the Advisory Committees do not follow the Act and do not file cases against the offenders.
c)      Doctors are provided clean chit and no strong action is taken against such offenders.
d)     Most of the clinics sealed are de-sealed within 3- 5 months span.
e)      It is humbly submitted that given the gravity of the situation, the intervenors, with intent to bring forth facts that would assist this Hon'ble Court, have filed this application. It is submitted that great prejudice would be caused to the society at large in case the present application is not allowed. However no prejudice whatsoever would be caused to the Respondents if the present Application is allowed.
f)       That the present Application may be allowed in the interest of justice.
PRAYER
In the circumstances, it is therefore most respectfully prayed that this Hon'ble Court may graciously be pleased to:
i.                Allow the applicants to be impleaded as intervenors in Writ Petition (Civil) 349/2006;
ii.                and pass any other order or orders which may be deemed fit and proper to meet the ends of justice.